More stage plays coming from Hello! Project. This time it's "Cat's Eye" based on Hojo Tsukasa's popular manga, a crime story of three sexy Kisugi sisters. In starring roles we have Maasa, Maimi and Mai. Other Berikyuu girls in this play are both Sakis, Rii and Yurina.
Clip from stage play's press conference (MaiDigiTV):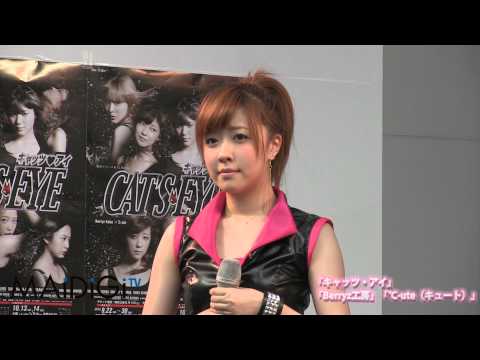 Comments from actors (COMICZENON):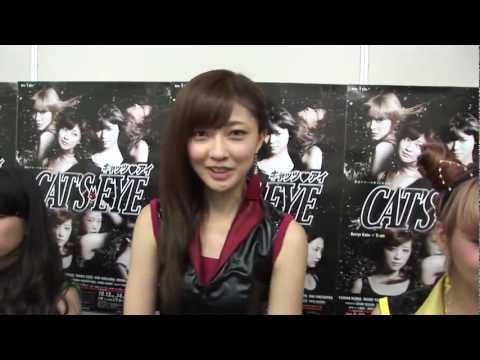 Information about "Cat's Eye" from Wikipedia:
Tsukasa's sexy trio of leotard-clad cat burglars became an instant sensation when it first appeared in "Shonen Jump" in 1981. It ran for eighteen issues, attracting as many female readers as male. The story became an animated television series in 1983, where it proved equally successful with its mix of crime and passion. The same titled opening theme of the series became a hit in its own right, selling over 800,000 copies. The initial thirty-six episodes were followed in 1985 by a second series of thirty-seven episodes which took a lighter tone, concentrating on the love triangle between two of the characters. This was followed by a live-action TV special in 1988, and a live-action feature film in 1997.
The protagonists of the series are the three beautiful Kisugi sisters — Rui, Hitomi and Ai — who run a café called Cat's Eye. The sisters lead a double life as a trio of highly skilled art thieves, leaving razor-thin "Cat's Eye" calling cards (adorned with a red cat emblem and capable of slicing through metal, skin and imbedding into concrete walls) at the scenes of their crimes. They steal works of art (mostly paintings) that belonged to their long-missing father, Michael Heinz, who was a famous art collector during the Nazi regime), in the hopes of him contacting them.
"Cat's Eye" in Ikebukuro Sunshine Theatre (Tokyo) on September 22. to 30. and in BRAVA! (Osaka) on October 13. and 14.